Career Opportunities
View Our Current Job Opportunities at St. Luke's
Ready to start a career with St. Luke's Lutheran Church & School? See our available positions below, and send a resume to hr@sllcs.org if interested.
Positions for the 2022-23 School Year:
Receptionist (Full-Time): 
Seeking candidates for a full-time school receptionist.  The position is year-round, Monday-Friday.  Position requires strong skills in customer relations, ability to multitask, emotional control, sound communication skills (oral and written), and a dedication to Christian school team ministry.  Qualified candidates should have previous experience in customer service, multi-line phone usage, proficient Microsoft Office skills, Google apps exp. (preferred), and demonstrated adaptability.  Level II and state required background checks conducted.  Position begins March 2023.

Gifted Teacher (Long-term Substitute):
Seeking candidates for a long-term substitute – gifted teaching position.  Qualifications include, but are not limited to, previous teaching exp. in gifted program within an accredited elementary school, current state teaching certification in subject area (preferred), demonstrated classroom excellence, strong classroom management skills, team oriented, deep commitment to Christian education, and strong classroom technology skills.  Position begins when filled-May 31, 2023.
After School Care Workers (PT):
Seeking candidates for after school care positions (part-time) in preschool.  Qualifications include, but are not limited to, leadership qualities, strong work ethic, exp. working with children (preferred), education major or similar areas of study preferred, with ability to provide a positive role model and work well within a team.  Must be available immediately thru May 31, 2023 with shifts M-F 1:15-6:00pm. Must be able to work at least 3 days/week, 5 days/preferred.  Include availability with application submission.
Bus Drivers (PT):
Seeking candidates for part-time bus driving positions.  Duties include transporting school aged children on large bus through the school year.  This is not a set bus schedule, times will vary therefore applicants must have flexible schedule, clean driving record, be at least 21 years old, and be able to pass a Level II background check.  Prefer candidates that have a valid Class B with Passenger and School Bus endorsements, however, training may be available.  No benefits.
Church Opportunities:
*All interested applicants should send a resume, cover letter and name of position applying for to: hr@sllcs.org.  Must submit to a Level II background screening.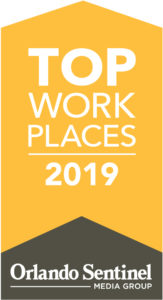 St. Luke's Lutheran Church & School is proud to announce we've been named a 2019 Top Workplace! We're thrilled to have been included on the list, and thankful to our employees, who made this happen. More info is available at www.topworkplaces.com.