Career Opportunities
View Our Current Job Opportunities at St. Luke's
Ready to start a career with St. Luke's Lutheran Church & School? See our available positions below, and send a resume to hr@sllcs.org if interested.
School Opportunities for the 20-21 School Year:
Teacher – 7th Grade English/Literature (FT):
Seeking a candidate for full-time teaching position for a 7th Grade English/Literature position.  Position available immediately through May 2021.  Qualifications include, but are not limited to, a valid state teaching certificate in subject area, previous teaching exp. with demonstrated success, and a candidate that will positively contribute within a team setting.
Substitute School Nurse:  
Seeking candidates to occasionally sub for the school nurse.  Qualifications include, but are not limited to, previous nursing exp. working with children (preferred), organizational skills, ability to remain calm, flexible schedule, and desire to work in a Christ-centered school.
Bus Drivers (PT):
Seeking candidates for part-time bus driving positions.  Duties include transporting school aged children on large bus through the 2021-21 school year.  This is not a set bus schedule, times will vary therefore applicants must have flexible schedule, clean driving record, be at least 21 years old, and be able to pass a Level II background check.  Prefer candidates that have a valid Class B with Passenger and School Bus endorsements, however, training may be available.  No benefits.
Church Opportunities:
Maintenance Worker (P/T):
Seeking candidates for a part-time position in maintenance. Qualifications include, but are not limited to: general handiwork skills in the areas of janitorial duties, set-up/tear downs, grounds maintenance, etc.  Position is Saturdays and Sundays with flexibility required (12-15 hrs/week).  No benefits, must be at least 18 years old.
*All interested applicants should send a resume, cover letter and name of position applying for to: hr@sllcs.org.  Must submit to a Level II background screening.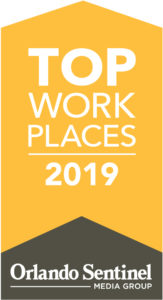 St. Luke's Lutheran Church & School is proud to announce we've been named a 2019 Top Workplace! We're thrilled to have been included on the list, and thankful to our employees, who made this happen. More info is available at www.topworkplaces.com.