Wondering how to entertain your kiddos at home? Maybe you hired a babysitter, but still need some kid friendly activities for them to do? Look no further! Here are some ideas to keep your kids engaged and learning at home:
Gardening: This might sound a bit daunting, but it's actually quite simple! Just purchase some basic plants/seeds and soil, make a small space in your backyard for a garden, if you have the room, and have your children take care of it, water it, etc. This will give your kids a sense of responsibility when remembering to water the plants and even harvest any fruits/vegetables if that's what you choose to grow!  If you don't have space outside, simply fill a bowl or bin with some dirt and have them plant fake flowers! If you're afraid of dirt getting everywhere, black beans also work great as "dirt" and they might make clean up a little bit easier! (But remember, it's okay to get a little messy!)
Nature Walk: Simply go for a walk in your neighborhood and point out the different things that you see: animals, plants, airplanes, oh my! There is so much to discover outdoors! There are also free print-outs online to have your kiddos check off what they see on their walk, like a scavenger hunt! (You can even make one up yourself!) Another fun idea is to get a paper bag and add nature items from your walk and when you get home, they can create a nature art masterpiece.
Outdoor Reading/Coloring: Spend some time outdoors with a good book or coloring tools! Using chalk or colored water on the sidewalk could add a little bit of fun to your outdoor time! You can even play games, paint, or whatever else you can think of! It's a great way to change up your child's scenery and also allow them some time to get fresh air!
Become a Scientist: You may or may not know this, but there are items in your house right now that can turn your kids into little scientists! Baking soda & vinegar creates a fizzy reaction, cornstarch & water makes a gloopy concoction, shaving cream & food coloring can make a fluffy and fun experience! Even mixing water and oil can keep your kids entertained for a while!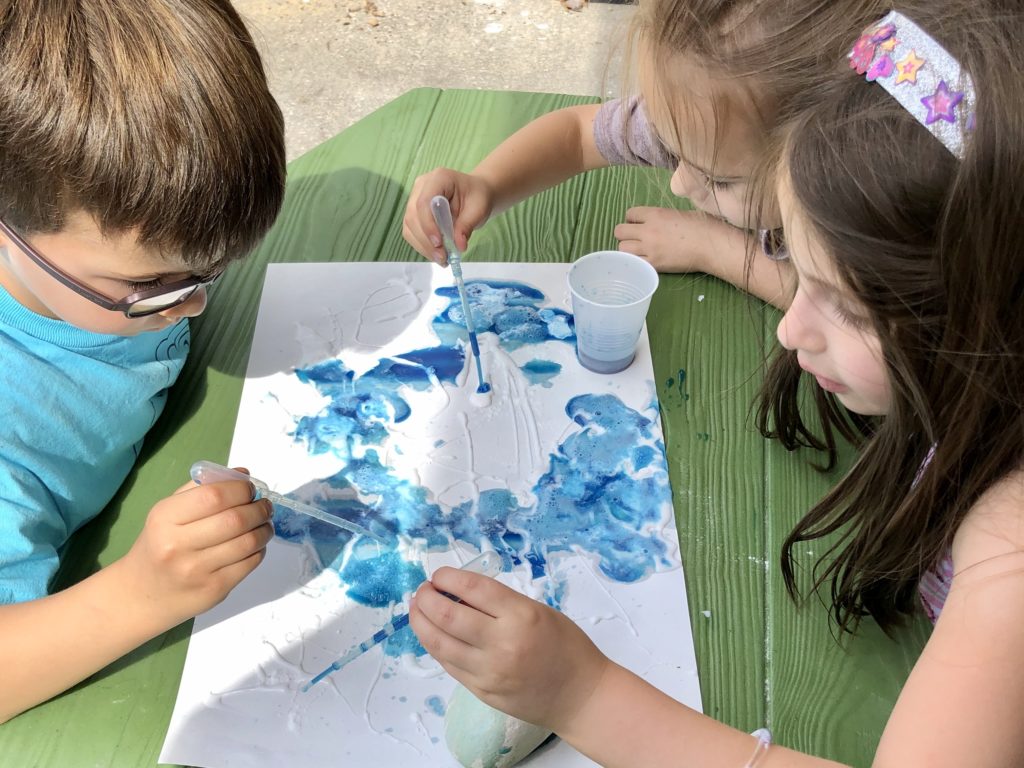 Edible Slime: What child doesn't like slime? There are a ton of simple recipes online (

https://littlebinsforlittlehands.com/edible-slime-recipe/

) or you can purchase it at your local grocery store (Jell-O Play Unicorn or Monster Slime). It is a great sensory experience for all ages! And if they happen to get some in their mouth, it's a-okay! If you want to further the slime fun, try making fluffy slime with shaving cream, glow-in-the-dark slime with glow powder or even sparkly slime with glitter! 
Sensory Bins: Just grab some bowls/empty containers, spoons or measuring cups and let the sensory experiences begin! Add things like rice, beans, noodles, water, dirt, sand, orbeez, fake snow, leaves, rocks, playdough, shaving cream and so much more! Maybe switch it up, so your kiddos can experience something new and different each day! Want some help washing dishes? Add water, dish soap and a sponge with some plastic dishes and let your kids go to town! They'll be having a good time all while your dishes are getting cleaned! Check out this article with even more suggestions along with the benefits of sensory play!

https://littlebinsforlittlehands.com/all-about-sensory-bins-5-things-need-know/
Cooking: Kids love to help out, so why not include them in preparing dinner or dessert? It can help with their fine and gross motor skills as well as give them a sense of accomplishment when the meal/dessert is made and ready to eat! Maybe plan out the entire dinner menu for the week! Or have your child pick out a new dessert to make! Even doing something as simple as decorating pre-made cookies can be fun and entertaining for all ages!
Game Night (or Day): Grab those board games out of the game closet and start playing! It's always fun and beneficial when a child can learn a new game. It can help with their problem sol

ving skills, teamwork, and teach them about good sportsmanship and patience. It can also assist with their language skills and is a great way to bond with their siblings or family members. Not to mention, it's a perfect tool to get them unplugged from those iPad or TV screens. You might even find their new favorite pastime! 
These are just a handful of many activities you can do with your kiddos at home! Be creative, get messy, but most importantly have fun!