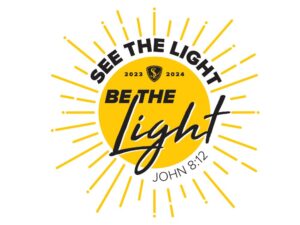 I hope and pray that you are all having a relaxing and joyous summer! Here at St. Luke's, we are busy planning and preparing for the upcoming school year. One of our favorite things to do is to develop a theme for the new year. I'm pleased to share with you that the theme for 2023-2024 is "See the Light…Be the Light" based on John 8:12: "Again Jesus spoke to them, saying, "I am the light of the world. Whoever follows me will not walk in darkness, but will have the light of life."
The world can seem like a pretty dark place sometimes. We make mistakes, people disappoint us, and sometimes it seems like nothing goes our way. Fortunately for us as Christians that's not the end of the story. We've seen the light – Jesus – who shows us the way. Even when things seem confused or hopeless our lives are bathed in the light who brings truth and forgiveness that comes from His cross and empty tomb.
Since we've seen the light let's BE the light! We can reflect the light of Jesus into the lives of those around us. We can love people, care for people, comfort people, and provide for people with Jesus as our guide and inspiration. His grace and mercy set us free to be the light of God in the lives of our friends and family and in our community.
Enjoy the last days of summer, and we'll see you soon!