It takes a village to keep our preschool Outdoor Classroom looking nice and functioning the way it's supposed to. Ceci Morrow has been the Outdoor Classroom Support for the preschool for the last two years. She helps out with all the classes that visit the Outdoor Classroom. She preps all of their supplies and cleans up when they are done. She also helps out in the Lab and takes care of our animal friends. Here she shares what's been happening in the Outdoor Classroom:
"The Traditional classes are learning about states of matter and then they'll move into bodies of water. I received 12 tadpoles for the Traditional classes to observe when they were learning about lakes, ponds, and rivers. The month of May was very busy, specifically in the dirt area, for both the Traditional and STEAM classes had their mud days. The STEAM 4's class wrapped up their unit of study on gardens. They have their own butterfly and herb garden in the Sensory Garden area. Each year, Lukas and Edna from Lukas' Butterfly Garden have come to do a presentation and help with planting the herb garden. The STEAM 3's class wrapped up their unit of study on sand and, they made their own "building" using bricks and sand/water/mud mix to put it together. The STEAM 2's class was learning about brushes, how they look, the different parts and uses, and what kind of things you can do with different types of brushes. Lastly, the Traditional classes were learning about coding using bee bots."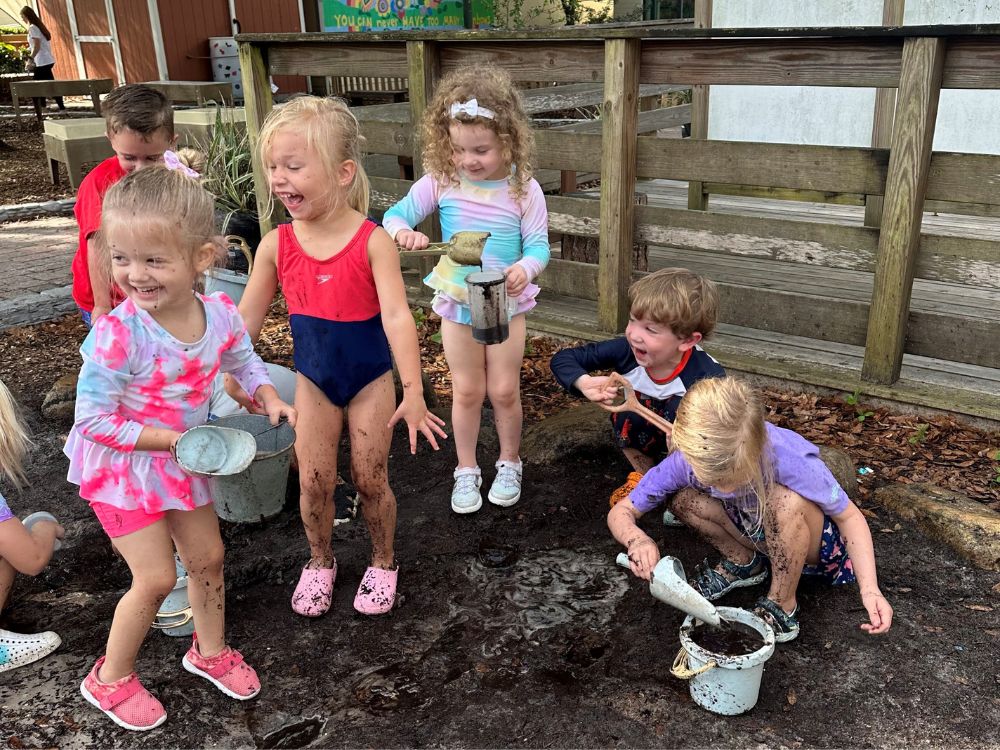 She also shared that some of the classes have taken ownership of different areas of the Outdoor Classroom. For example, Mrs. Jackson's Transitional class helped make the Butterfly Garden look beautiful. During their unit of study on gardening, the Traditional 3's classes have their own dedicated space where they plant and water their garden daily. The Outdoor Classroom is in constant movement and there are always classes outside either learning or taking care of different areas. It's a beautiful sight to see! 
I know all the classes appreciate all you do for the Outdoor Classroom, Mrs. Morrow!