Ever wonder what to do to get your little one year old engaged? Run out of ideas or getting bored of the toys you have at home? Look no further! Here are some great sensory activities to do with your little one that are safe and provide rich sensory experiences: 
Colorful Spaghetti – This is sure to be a hit! Boil a box of spaghetti, then once it cools strain and separate it into different baggies depending on how many colors you want to make. Then add a very small amount of vegetable oil and a couple drops of food coloring to each bag, seal and shake until all the spaghetti has changed color. Feel free to add more food coloring if the color is not strong enough. Then dump the spaghetti out onto a paper towel or parchment paper and let it cool/dry. Then let the fun begin! This is a great activity to introduce a new texture and might be best to do over a mat or shower curtain. If you have older children, they can use their imagination and pretend the spaghetti is a bunch of snakes or worms. From experience, this is definitely one of my favorite sensory activities!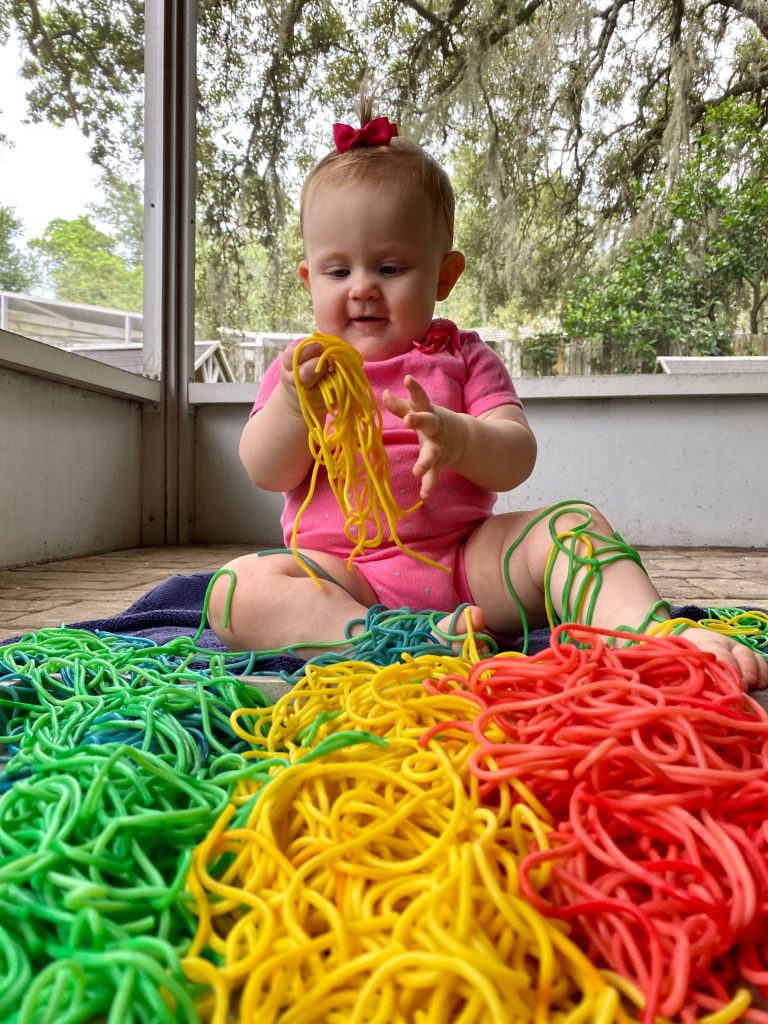 Edible Sand – Don't throw away those leftover Cheerios that were uneaten from breakfast! Instead turn them into a sensory experience! Grab Cheerios, graham crackers or dried oats, blend until they're a fine texture and now you have made edible sand! This is great for highchair play, in a bin/bowl or simply on a mat on the ground. You can add little sand toys to enhance their experience and you won't have to worry if they get some of the "sand" in their mouths. 
Sensory Bags – These are great for high chair play or to promote crawling. Grab a few gallon sized bags and various liquids, like water, baby oil or vegetable oil and add items like pom poms, glitter, food coloring, etc. Seal and tape the bag either to the high chair or on the floor and watch as your little one becomes mesmerized by colorful liquid and items moving around in the bag. If you tape these bags to the floor, this can encourage crawling and reaching skills.
Edible Finger Paint – Mix food coloring with either whipped cream or vanilla/plain yogurt. This can be done outside or in the high chair or even in the bathtub/shower. Let your little ones get their hands messy in the edible finger paint and it's okay if they take a little taste. Watch as they explore what happens when they put the paint on their fingers then onto another surface. You can also give them tools like small spoons or spatulas for further exploration.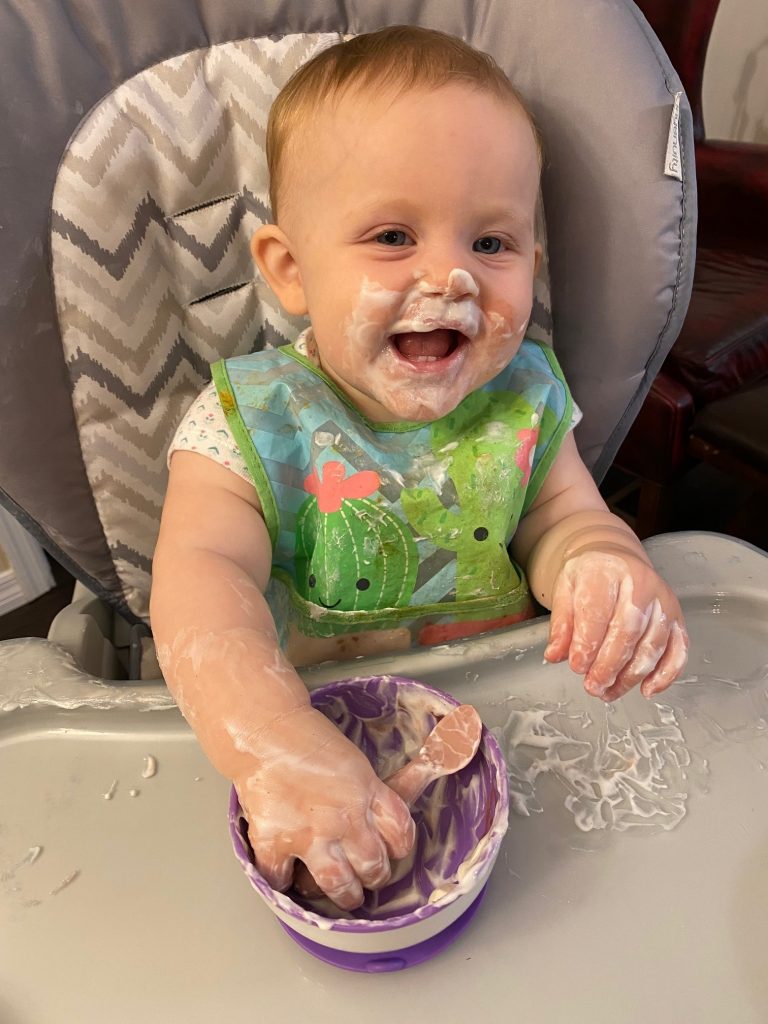 Sensory Bottles –  This is another great way to promote reaching and grabbing while having more of a mess-free sensory experience. This time, instead of adding the liquid/items to a bag, add them to a clear water bottle or other plastic container. Watch as your child tries grabbing and flipping the bottle on their own and watching the items move and float around in the bottle. To ensure the seal on the bottle lid, super glue the top onto the bottle. These are also great for on-the-go fun, like in the car or grocery store. 
Jello Play – Jello is a great taste-safe sensory material that is quite versatile. First, you can make jello in a large tray with items inside of it, like toys, plastic animals, etc. Have your little ones try to grab and dig the toys out of the jello. The jello has an awesome squishy texture, so your child might be surprised when they start digging for those toys. Another idea is to make the jello in an ice cube tray for smaller jello pieces. You can make multiple colors and add them to different bowls/trays and let your child have fun just playing with the jello. This can promote those fine and gross motor skills.
Water Play – There are endless possibilities when it comes to water play! For smaller kiddos, water play may look a little different, but it can still be just as fun and rewarding. You can put water in bowls with cups and have your child practice holding the cups or simply splash around. You can color the water and watch as they mix or touch the different colors. You can cut up slices of fruit, like oranges, lemons, limes, and add them to the water for more texture and sensory fun. Lastly, you can purchase a small splash pad that you can use for outdoor play and add small bath or water toys for even more fun. The possibilities are endless!
(More ideas: https://littlelearningclub.com/sensory-activities-6-12-months/)
If these sensory activities just aren't enough, we have some exciting news to share: St. Luke's Preschool is offering a brand new one year old program! This program will be for our littlest learners (12 months – 23 months) and will focus a lot on sensory play and exploration. We are looking forward to all the discoveries these little kiddos will make all while getting an introduction to a school experience. They will get the opportunity to be around other kids their age while following an age appropriate daily routine. Because this is brand new to St. Luke's, we look forward to how this program can grow and blossom for our littlest learners. We are even working on a special project that we hope to share with you all soon that will enhance our outdoor learning space and will be geared towards our younger classes. 
Whether you're thinking about sending your littlest kiddo to school or want some fun day-to-day activity ideas to do at your home, there are lots of possibilities when it comes to sensory play. Get creative and have fun with it! Your baby's brain is doing a whole lot of growing during this time, so any amount of exposure to textures, messes, scents, tastes, and sounds are all very beneficial for their brain development.