Okay, moms, dads, grandmas & grandpas, the day has finally arrived! Your precious little one is starting school! Maybe, for some, it's their very first time at school ever! You're probably in disbelief that this day is here. You little one is growing up, time is flying and you're full of emotions, but I'm here to tell you that everything will be okay! Below are some tips and tricks that will hopefully help you survive and manage that first day.
Prepare the Night Before
Whether you are planners or procrastinators, this is one of those days where you want to be prepared in the morning, so planning the night before is ideal. Help your child pick out their first day of school outfit. Pack their lunch and make sure their backpack is all ready to go with their school supplies, change of clothes, etc. It might also be helpful to read a bedtime story about school, like "Pete the Kitty's First Day of Preschool", "The Night Before Preschool", "First Day Jitters" or any others you might have! This will help your child feel more at ease about starting school and will hopefully help you not feel so rushed in the morning.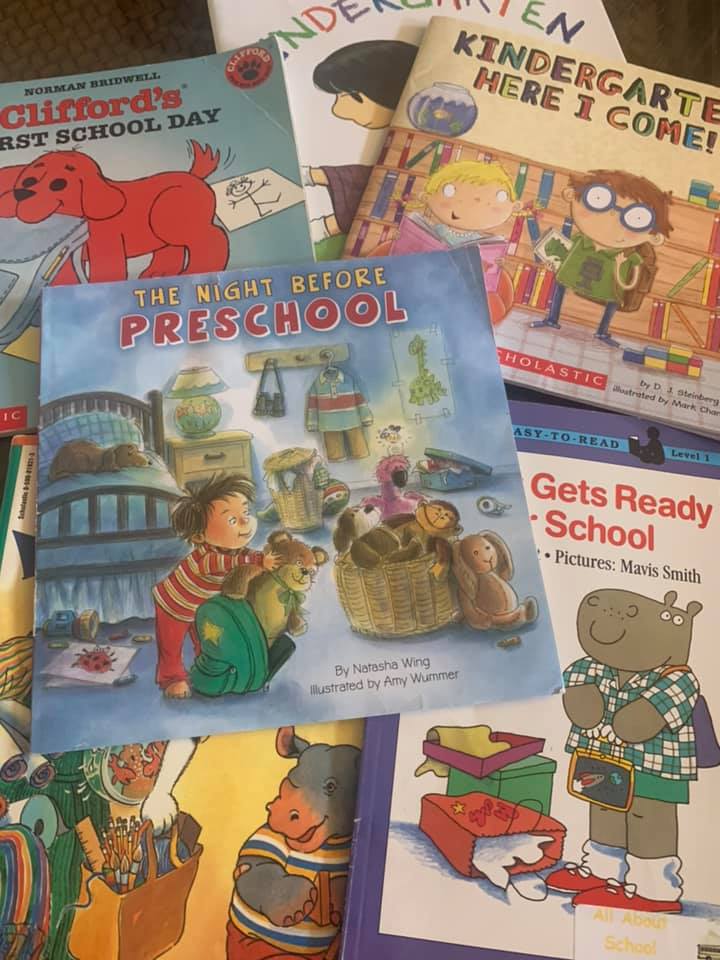 Set Expectations
This is another way to prepare your child for their start of school. Discuss what they might do at school, what they might learn, and describe some skills they will be practicing, like waiting in line, taking turns, etc. Also, let them know that they will make lots of new friends and that their teacher cannot wait to meet them! School is a safe place for them to learn new things and have fun at the same time! Setting expectations can also include starting a routine. Just like their school day will have a schedule of what they will do each day, morning and nightly routines are just as important. This allows your child to know exactly what they will need to do to prepare for the school day.
Arrive Early 
As I'm sure everyone else will have this same idea, plan to arrive at school early!  This will allow for a time of adjustment for your child, especially when they realize that mommy and daddy do not stay with them during the day. Giving children time to become familiar with their classroom, teachers and new classmates is crucial. This is a huge transition for any preschooler and each child will adjust at their own pace. That extra time in the morning can really help a child feel more comfortable and set the stage for how the rest of their day will go.
Be Positive and Encouraging
I know this is a tough day for most parents, as they are filled with nerves and anxiousness, but try your best to keep these emotions hidden, at least until you've dropped off your little one. Instead, show emotions of happiness, excitement and encouragement! Let your child know that this is going to be fun and that they will be safe at school. It will be hard to let go, but often children feed off of their parents emotions. If you are feeling worried, they might think they should feel that same way. Being encouraging about school can have a much more positive impact on your child and they will be more excited about starting school.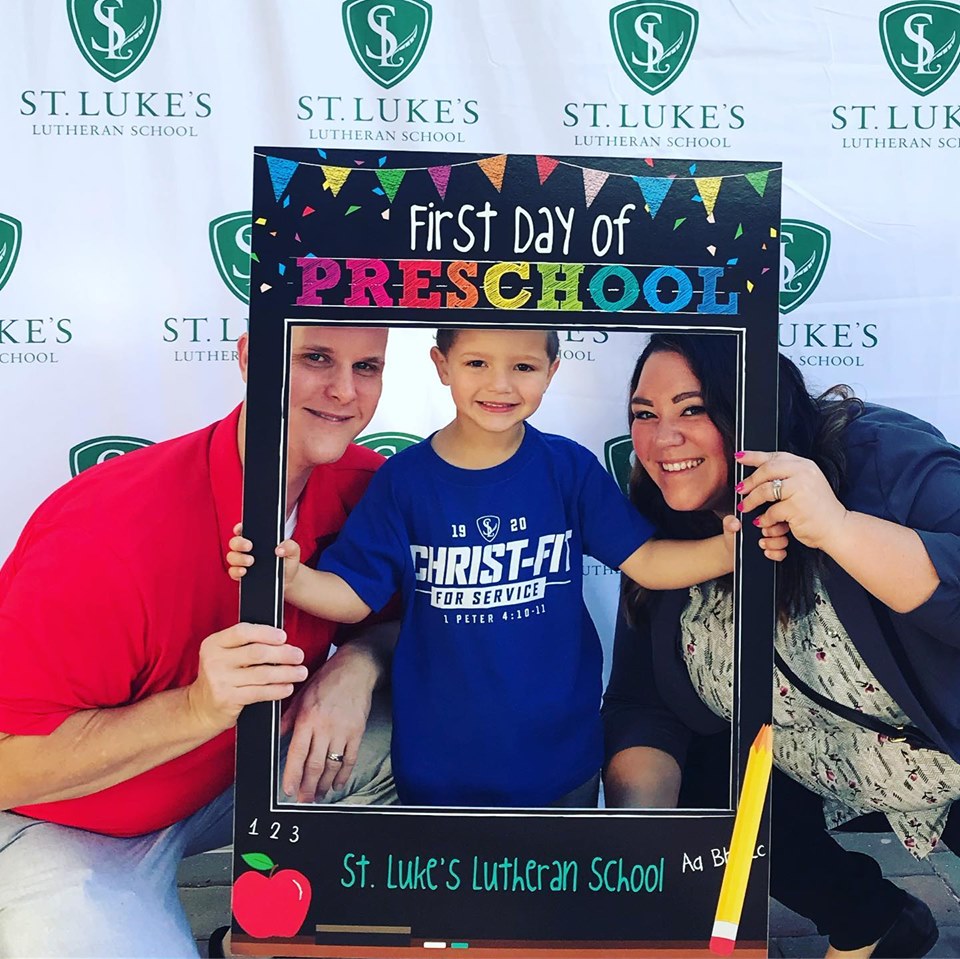 Hanging vs. Hovering
While it is hard to "let go", hovering around your child while they are trying to adjust to their new surroundings is not exactly the best option. As difficult as it might be, try to allow your child to have some time to play with new friends and explore their new classroom. Hanging around to make sure they are adjusted is okay because your child still knows you are there, but hovering can create a harder goodbye. This can also rub off onto other students whose parents have already left and can create a sense of panic in those children who had previously been adjusted. Like I mentioned earlier, having that extra time in the morning to make sure your child feels comfortable in their new surrounding is important and then you can slowly ease your way into the background.
Goodbyes: Short and Sweet 
The dreaded time has come, to say goodbye and let your child begin their school journey. Making sure that your goodbyes are short and sweet is very important. Like I was saying earlier, prolonging the goodbye can make separation even more difficult. Remember, crying and separation anxiety are completely NORMAL! Do not think that if your child is a crying mess on the first day that you should reconsider this whole "school thing." It is a hard time for all involved, especially when this is their very first time at school. Just know that it will get easier and there will be a day when goodbyes really are short and sweet!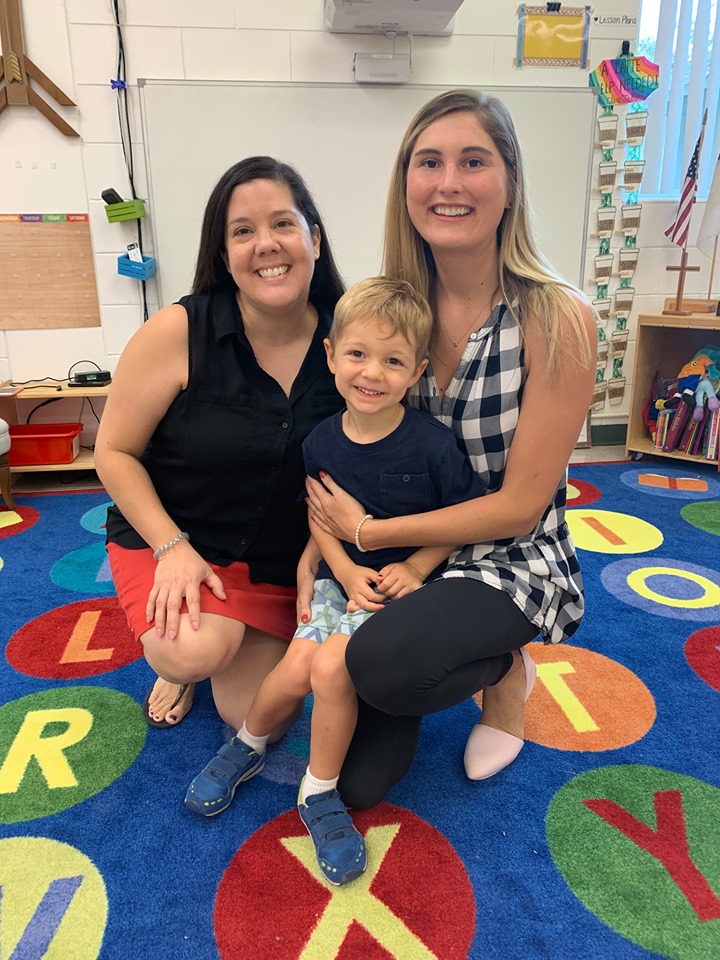 Join a Support Group
Have you heard of MOPS? And I'm not talking about the thing that cleans your floors. It stands for Mothers of Preschoolers and is a support group for moms to share experiences and support one another through this journey of motherhood. This can be a great opportunity to meet other mommies at your child's school and realize that the feelings and experiences you are going through are completely normal! This will be especially helpful during the first few days of school.